Shipping & Handling
How do you ship orders?
If the goods less than 5KG will send by USPS , over 5KG will send by UPS .
How much for the shipping cost?
The shipping cost depends on the weight, you will see once you checkout.
Please check reference shipping cost at below:
Please note the shipping cost might  will be change that depends on the shipping company, we will update  once we get.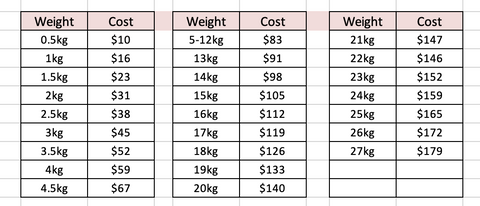 How can I get free shipping?
Over $1000 are free shipping
Are orders processed within the same day?
Once your order confirm will ship within 24 hours.
Orders received on a Friday after 5PM, on Saturday and Sunday, or during holidays, will be processed on the next business day.
How long until I receive my order?
Normally 7-15 days, but sometimes busy season maybe will take around 20-25days.